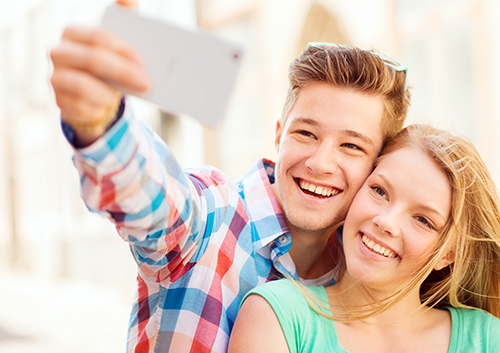 Invisalign Teen is one the newer styles of braces, and perfect for those who do not like the standard metal braces. They are available in a clear material that is practically invisible called aligners that are replaced every two weeks. The aligners are custom made for each patient and gradually straighten teeth without all of the metal and rubber bands that come with traditional braces.
Is Invisalign as effective?
If your child will wear them as directed to, then the answer is yes, they are as effective as traditional metal braces. However, to make sure the child is actually wearing them correctly you will notice a small blue spot on the back of each aligner. This is called an indicator and if worn correctly will fade over a period of two weeks. Dr. McSweeney will be able to tell if the patient is not wearing them correctly.
Can Invisalign be removed?
Parents should be aware that the Invisalign aligners can be removed for up to four hours per day to eat, brush teeth, play sports, or play musical instruments. With the option of removing them it actually makes brushing and flossing easier and helps oral hygiene. The recommended time to wear them is at least 20 hours per day.
How long does treatment take and what is the cost?
Your teen will wear Invisalign as long as traditional braces. However, each patient is different so you should speak with Dr. McSweeney to determine how many months your child can expect to wear them.
The cost is also very similar to other traditional braces; however there is no set fee. The cost will depend on your child's unique orthodontic need.
Overall Success
Invisalign Teen has had remarkable success because patients are happy to have the option of having clear aligners for treatment. With the child more confident they are actually more prone to keep up with their treatment and many do complete their treatment sooner. You should speak with Dr. McSweeney as soon as possible to learn about the benefits of Invisalign Teen.