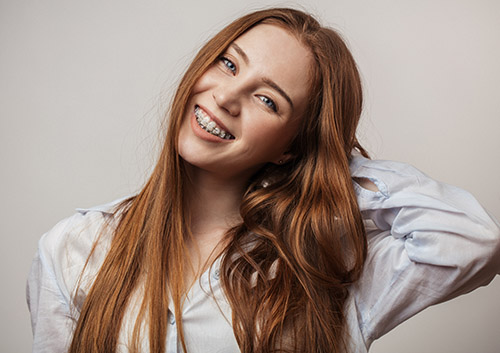 Summer means sun and heat and delicious, frosty treats to keep you cool while you're enjoying the sun and heat. If you're wearing braces this summer, not to worry! Dr. McSweeney and our team have plenty of ideas for icy treats to help you beat the heat.
Low on refined sugars, high on vitamins and minerals, refreshing, delicious, easy on brackets and wires—what's not to like about fruit smoothies? And if you want to up the nutritional value by adding some green vegetables to the blender, even better!
If you're buying your smoothie instead of making it yourself, watch out for added sugars in ingredients like ice cream, sherbet, frozen yogurt, and sweetened fruit juice. It can be more challenging to keep your teeth clean with braces, so watching your sugar intake is more important than ever. Try a smoothie made with low-fat yogurt, fruits and/or vegetables, and 100% fruit juice instead. Just as delicious, without extra tablespoons of added sugar.
Iced (Herbal, Green, or White) Tea & Frozen Coffee Treats
Coffee and black tea contain compounds called tannins, which can stain tooth enamel and braces. Using a straw can help you limit your enamel's exposure. If you enjoy a cold, iced beverage occasionally, consider green, white, or herbal iced teas. They don't stain as much, and many contain healthy antioxidants and other health benefits.
And if you can't resist that creamy iced coffee beverage? Use a straw to avoid bathing your teeth in the stain-causing tannins and enamel-weakening acids found in coffee. Because these drinks can be full of added sugars, consider reduced-sugar options and skip the toppings.
When you hear that familiar tune coming from the neighborhood ice cream truck, do you have to stand on the sidewalk, sadly watching it disappear into the distance? Not necessarily!
Milk shakes, ice cream, and frozen yogurt are a refreshing choice in a braces-friendly form—and they contain calcium. Popsicles and fruit bars can be a safe choice if you don't bite into solid ice. You wouldn't chew on ice because it could damage your braces, so make sure your frozen bar softens a bit before you enjoy it.
What kinds of frozen treats to avoid? If your favorite flavor of ice cream or your go-to ice cream bar contains hard or chewy additions like nuts and pieces of candy, choose another item from the menu. Surrounding nuts and candies with ice cream doesn't actually make them any safer for your brackets and wires, and may lead to an unplanned visit to our Plattsburgh orthodontic office to fix a broken bracket.
We don't recommend a steady diet of sweet treats, because you want a cavity-free smile when your braces come off. And water is always an excellent summertime choice for both hydration and health. But an occasional frosty dessert is cool and tasty and soothing, especially if you've just had an adjustment. Just be sure to brush—or rinse with water if you can't brush—after indulging. Now, what's on the menu for fall?