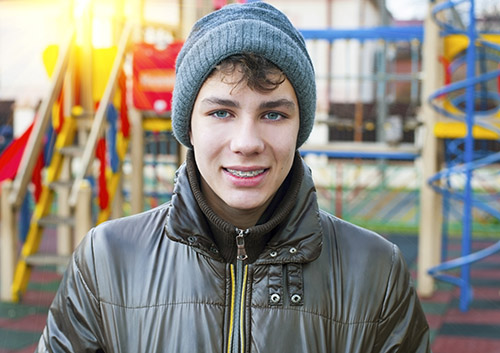 We'll give it to you straight: it can be harder to keep your teeth their cleanest while you're wearing braces. Food particles play hide-and-seek, plaque builds up around brackets, flossing is harder when you need to maneuver around wires. But keeping your teeth and gums healthy is even more important now that you're wearing braces.
Why? Because when your braces come off, you want to enjoy the beautiful smile you've worked so hard for without worrying about discolored enamel, cavities, or swollen gums. Let's look at some of the possible consequences when brushing and flossing are more challenging.
Decalcification
If you've noticed white spots around your brackets, you're seeing the signs of decalcification, a common problem for those who wear braces.
Decalcification begins when plaque collects on the enamel around your brackets. The bacteria in plaque produce acids. These acids eat away at the minerals which keep your enamel strong, minerals like calcium and phosphorous. Places on the enamel where erosion takes place are left weakened and discolored. Eventually, these weak spots can lead to . . .
Cavities
When plaque sticks around, whether near your brackets or anywhere on your teeth, it provides the perfect conditions for decay to develop. Left untreated, bacterial acids continue working away at decalcified spots in your enamel. This continuing erosion causes these surface spots to expand, grow deeper, and become cavities.
If you're having trouble with built up plaque, and brushing isn't doing the job for you, your dentist can remove it with a professional cleaning. Getting rid of plaque is healthy not only for your enamel, but your gums as well.
Gum disease
When plaque and tartar collect around the gumline, they irritate delicate gum tissue. This irritation causes gingivitis, or early gum disease. And, while young people rarely suffer from serious gum disease, the pain, redness, bleeding, swelling, and bad breath caused by gingivitis are not anyone's life goals!
Brushing and flossing are essential to keeping your enamel and gums plaque-free. But even if you brush more often, it's not as easy as it once was now that you have to work around and between brackets and wires. Luckily, there are lots of tools out there to help you get your teeth, gums, and braces their cleanest.
Special brushes designed just for braces can help you work around brackets and wires. V- or U-shaped bristle formations let you brush around and over your braces. Curved bristles can fit under wires. Smaller brush heads let you reach those hard-to-reach places.
Many people find these brushes can clean more easily and effectively, especially when wearing braces. Tapered orthodontic brush heads are available, and, if you're a heavy-handed brusher, there are models which alert you if you're brushing too hard—protecting your braces and your enamel.
Special orthodontic flosses can help you do the tricky job of fitting floss behind your wires and between your teeth, or use a floss threader, which helps guide uncooperative floss into tight spaces.
With their pulsing streams of water, water flossers can reach spots where regular brushes and flosses just can't comfortably fit. There are even flossers available with special orthodontic tips.
Straight teeth are great. Straight and healthy teeth? Even better! You, Dr. McSweeney, and our Plattsburgh orthodontic staff make a great team. Take advantage of our advice and tips for the best tools and techniques to make sure your smile is both perfectly aligned and perfectly healthy once those braces come off!